Rolls-Royce Careers | ESEIAAT UPC Terrassa
Rolls-Royce Careers | ESEIAAT UPC Terrassa
2018-09-27T09:30:00+02:00
2018-09-27T18:30:00+02:00
When

Sep 27, 2018

from 09:30 AM to 06:30 PM

Add event to calendar

iCal
JOIN US
Place: ESEIAAT
Date: Thursday, 27th September 2018
Time: 9.30am – 17.30pm (local time)
Join members of Rolls-Royce UK's university team to hear about the exciting internship and graduate roles on offer. They'll share their experiences and insight and give you the opportunity to ask questions. You could also have your CV reviewed to see if you have what it takes to pursue a fantastic career with a world-leading engineering company.
Please note that all sessions will be conducted in English.
AGENDA
09:30 - 10:00     Introduction to Rolls-Royce Internships and Graduate Programmes. Q&A.
10:00 - 11:30     Guidance on application process: CV, online assessment, assessment centre and interview skills. Q&A.
13:00 - 17:30     One-to-one CV clinic. Pre-book your 15min slot at: https://rolls-royceplc.doodle.com/poll/cvghd4z8hidxxbihghjgd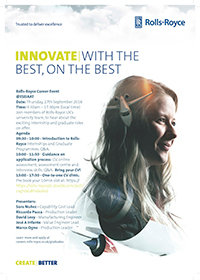 PRESENTERS
Sara Núñez Condominas – Cost Capability Lead
David Levy Sellares – Capability Acquisition Engineer
Jose Alberto Infante Sanchez – Value Engineer Lead
Riccardo Puca – Production Leader
Marco Ogno – Production Leader
Learn more about our opportunities: